New Summer Litter!
"Arliegh" & "Chaamp"
Handsome Pups in all shades of Brown & Deadgrass!
This breeding should produce handsome all around pups
that will fit as GREAT Hunting dogs
* Pups due early July ready late August 2019 *
~ Note t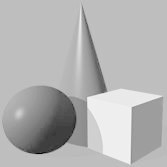 his is a frozen semen breeding ~
Litter sire:
AKC Name: CH Shallcross Lake's Chaamp MH, RA
Call Name: "Chaamp"
Sire: CH Irish's Royal Duck Buster
Dam: CH Feather Haven's Irish Diva MH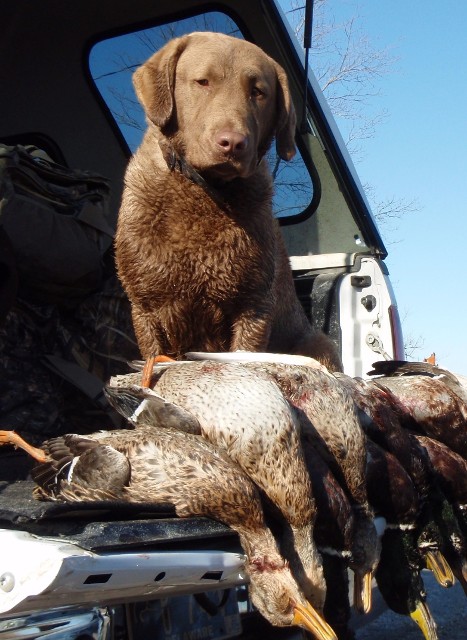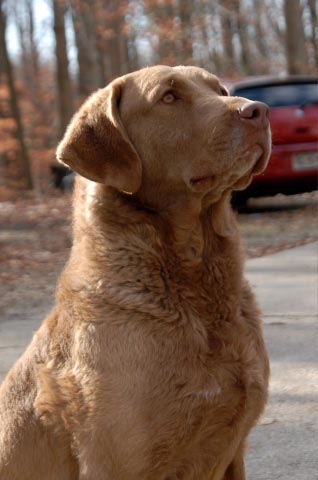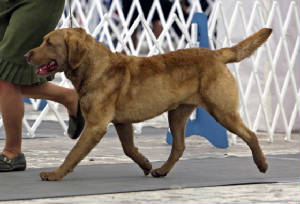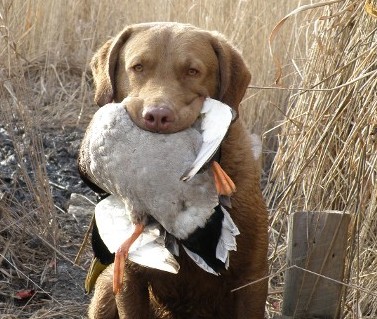 Born = Sept 6, 2007
AKC= SR45970403
Color = Light Brown
Height = 24 Inches at shoulder
Weight = 85 Pounds
Hips = CB-9369G25M-VPI (Good)
Elbows = CB-EL1774M41-VPI (Normal)
Eyes = CB-6215 (last tested 2012)
PRA = PRCD: A1 CB-PRA35/31M-VPI (Clear/Normal)
DM = CB-DM1080/41M-VPI (Clear/Normal)
CA = CB-CA111/41M/C-VPI (Cardiac clear/normal)
EIC = CB-EIC67/31M-VPI (clear/normal)
PA= CB-PA34/46M/P-VPI (Patella clear/normal)
Titles:
AKC CH = Bench Champion (bench championship title)
AKC MH = Master Hunter (field title)
RA = Rally Advanced (agility title)
Chaamp is a handsome heavily coated light brown male with a great temperament! He is an accomplished dog who has earned several advanced hunting retriever titles with the American Kennel Club (AKC) . Chaamp has been invited to run the Master National Retriever trial! Chaamp is also a fine companion hunting dog and is a proven stud dog- his off spring are titled retrievers and fantastic gun dogs!
The following is taken from the Orthopedic Foundation for Animals website:
SHALLCROSS LAKE'S CHAAMP
Registration:

SR45970403 (AKC)

Sire:

SN77954303

Breed:

CHESAPEAKE BAY RETRIEVER

Dam:

SR14063901

Sex:

M

*Titles:

RA, SH, CH

Color:

BROWN

CHIC #:

71752

Birthdate:

Sep 6 2007

Addtl. Reg. #
OFA Number

Registry

Test/Film
Date

Report Date

Age

Final Conclusion

CB-9369G25M-VPI

HIPS

Oct 13 2009

Nov 4 2009

25

GOOD

CB-EIC67/31M-VPI

EXERCISE INDUCED COLLAPSE

Apr 6 2010

May 11 2010

31

NORMAL

CB-PRA35/31M-VPI

PROGRESSIVE RETINAL ATROPHY

Apr 7 2010

Feb 16 2011

31

GENOTYPICALLY NORMAL FOR prcd-PRA

CB-EL1774M41-VPI

ELBOW

Mar 1 2011

Mar 14 2011

41

NORMAL

CB-CA111/41M/C-VPI

CARDIAC

Feb 19 2011

Mar 28 2011

41

NORMAL - CARDIOLOGIST

CB-DM1080/41M-VPI

DEGENERATIVE MYELOPATHY

Feb 18 2011

Apr 7 2011

41

NORMAL

CB-PA34/46M/P-VPI

PATELLA

Jul 9 2011

Jul 20 2011

46

NORMAL - PRACTITIONER

CB-6215

CERF

Jul 14 2012

Jul 14 2012

58

TESTED: 09,11,11,12
| | | | | | | |
| --- | --- | --- | --- | --- | --- | --- |
| Sire/Dam | Registration | Birthdate | Sex | Relation | HIPS | CERF |
| | SN77954303 | Oct 3 2000 | M | Sire | CB-7380F30M-PI | CB-5219 |
| | SR14063901 | Jan 7 2004 | F | Dam | CB-8343G24F-PI | CB-5188 |
Litter Dam:
AKC Name: Longmeadow Admiral Arleigh Burk
Call Name: "Arliegh"
Arleigh Statistics
DOB: July 2014
Color: Light Deadgrass
Weight: 65 pounds
Height: 23 inches
OFA Health Clearances
OFA Hips CB-11117G27F-VPI GOOD
OFA Cardiac CB-ACA7/27F-PI NORMAL AO/CONG, AUSC ONLY
OFA Cardiac CB-CA304/27F/P-VPI NORMAL - PRACTITIONER
OFA Elbows CB-EL2914F27-VPI NORMAL
OFA Eyes CB-EYE935/27F-PI NORMAL
OFA Patella CB-PA129/27F/P-VPI NORMAL - PRACTITIONER
Paw Prints Genetics Lab #: 40584
Reported: Jan. 19, 2017
Degenerative Myelopathy SOD1 WT/M Carrier
Ectodermal Dysplasia PKP1 WT/M Carrier
Exercise-Induced Collapse DNM1 WT/WT Normal (clear)
Progressive Retinal Atrophy, Progressive Rod-Cone Degeneration PRCD WT/WT Normal (clear)