Breeding Plans

Thank you for considering getting a puppy from LongMeadow!
In this section you will find information on our current and upcoming litters- to view info on a litter- pull down the side bar left and click on the litter name.
We do the majority of our breedings in the spring and fall with one or two litters in the summer and winter months too. We take advanced reservations for all of our litters, so it is best to get on board early- about four months prior to when you would like to bring a puppy home.
On each of our breedings we put together an on line "Puppy Pac" with details about that litter. The Pac includes pictures, pedigrees and health info on the parents as well as our guarantees and policies.
Please email us if you would like to receive a Puppy Pac for one of our litters or if you would like additional info: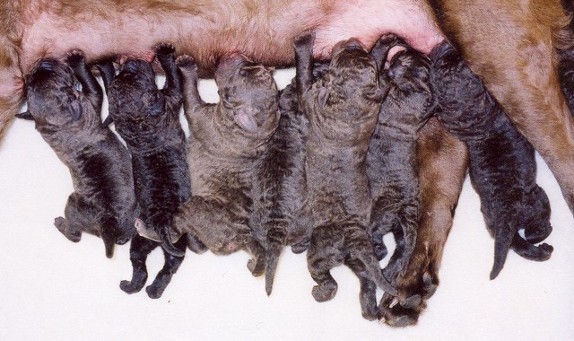 Puppy Reservations & Policies ~ Deposits are NON Refundable
We do several litters together at one time to insure you can get your preferred color, gender and temperament. Once we receive your deposit we log the date your deposit is received and you are placed on our list for a puppy. We will then send you a Deposit Reservation Received email letting you know we have deposited your check. After your check clears we will send you a Deposit Receipt letter via email along with a list of items you will need to begin collecting for your new puppy.
*Please keep in mind that your deposit is non-refundable
unless we are not able to provide you with a puppy
We take four reservations per litter per gender prior to the birth of the puppies and we will also accept advanced reservations for future litters. If we do not get your desired gender in the litter, we will offer you one of the opposite gender pups or move your deposit onto another upcoming litter.
We normally do ultrasounds on our females to confirm pregnancy since we don't want our clients waiting for a puppy longer than needed.
It doesn't matter if you are first on our list for a puppy or last- we will pick the best puppy in the litter for you! But if you have lots of criteria requirements for your new puppy such as coat color, retrieving skills or conformation (showing) it is best to get on board as early as possible.
*All pups are sold on Limited/Non Breeding Registrations unless previous agreed*
Puppy Prices
Our puppies run between $900 to $2000 depending on the litter type ~ Deposits are NON Refundable
Thanks for considering LongMeadow
We look forward to working with you to pick just the right puppy!